Bjorn Bjornson (or Björn Bjornson) is a Nordic, villainous young boy who used to be one of Professor Moshimo's students. He created a robot copy of himself whom's power equals that of Robotboy, only he is evil and Bjorn wants him to become the greatest and best robot in the world. He is the main antagonist of Robotboy and the Question of Triton. His older alternate universe counterpart CyBjorn is also the creator of Bjorn Ultimate.
Bio
TBA
Appearance
TBA
Personality
TBA
Trivia
Bjorn is another controversial character because of the episode "Runaway Robot", he had used the word "Jackass" when talking about Professor Moshimo. "That man's a jackass!". Similar to how Dr. Kamikazi called Constantine a jackass in Christmas Evil.
Of all the episodes of the series, Bjorn along with his Bjorn-Bot have both appeared approximately in 6 episodes. Bjorn has a 7th cameo where he can be seen on a cover of "Super Villain" magazine Kamikazi holding up at the beginning of the episode Brother.
Only Bjorn's mom was shown. His dad has never appeared or mentioned.
According to Jan Van Rijsselberge, Bjorn and Moshimo's rivalry is a result of Bjorn's arrogant personality, he needs no reason to hate him, he was born that way.
Bjorn shares a few similarities with Stewie Griffin from Family Guy, such as being evil and having a similar voice.
His name can be derived from the Norwegian stage actor and theater director Bjørn Bjørnson. but it is also possible that he is named after Bjørnstjerne Bjørnson, a Norwegian journalist, politician and a writer who received the 1903 Nobel Prize in Literature.
Björn is a Scandinavian name, which means bear. In Sweden and Iceland it is written as Björn and in Norwegian and Denmark as Bjørn. In Old English it was written as Beorn. The variant in Finland is Karhu and in Russia Medvedev. With all these differences it is difficult to tell in which Scandinavian country Bjorn Bjornson and his

mother

live.
Bjorn's voice sounds a bit similar to Nigel Uno from Codename Kids Next Door.
Along with

Felonious Hexx

and General Yakitori he's another villain that Lola has never faced before, although she could be seen in the classroom when Bjorn introduced himself in Brother Bjorn.
In season 3 and 4 he looks older and much taller then his appearances in season 1 and 2.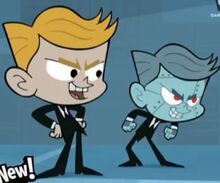 Bjorn's voice is similar to that of Mister Stubborn from The Mr. Men Show because of both being voiced by Lewis MacLeod. Except Mister Stubborn is Scottish while Bjorn is Scandinavian.