Krystal Walker

First Appearance

Last Appearance

Height

4'5 (age 9)
4'6 (age 10)
4'9 (age 11)
4'11 (age 12)
5'2 (age 13)
5'3 (age 14+)

Allies

Enemies

Dr. Kamikazi

,

Constantine

,

Donnie Turnbull

,

Kurt

,

Stu

,

Mookie

,

Special Agent

,

Protoboy

,

General Yakitori

,

Felonious Hexx

(Formerly),

Klaus Von Affenkugel

,

Bjorn Bjornson

,

Bjornbot

,

Agent Kalaschnikov

,

Queen Grace

,

Melanie Collins

(formerly)

Species

Human

Gender

Female

Family

Hair color

Blonde

Age

10

Krystal Emily Walker (born November 17, 1994) is a 10 year old blonde girl who is Perry's girlfriend. She was born in Atlantic City, New Jersey, but she eventually moved to the Bay Area before turning 10. She is voiced by Liliana Mumy. In the live-action films, she is portrayed by TBA.
Krystal was born in Atlantic City to Thomas and Nikolina Walker. Shortly before her 10th birthday, her family moved to the Bay Area. There, upon introducing herself to the class, everyone but Perry noticed, as Perry was asleep during her introduction. At lunchtime that day, Perry caught a glimpse of Krystal, thought she was the most beautiful thing alive, and went to sit down with her on a bench. The two became fast friends after that. Later that day, Constantine had kidnapped Krystal, and left a note to Perry. It was up to Perry Register to gather Tommy and Lola to help him save her, but that didn't go without Tommy and Lola teasing him with "Perry and Krystal sitting in a tree,". Soon, Perry had rescued Krystal, and out of gratitude, Krystal admitted her love for Perry, and kissed him. Perry confessed his own love for Krystal. Krystal immediately asked him out, and Perry agreed.
Nicknames
Edit
Krystie (by Perry)
Little Quartz (by her parents)
Personality
Edit
Unlike Bambi and Justine, who are rude blondes, Krystal is a kind girl. She's very much into fashion, hence her eye shadow, bracelet and earrings. She likes to hang out with her cousin Oliver, and especially her two closest friends; Melanie, her best friend forever, and Perry, the love of her life, whom she dreams of marrying when they grow up.
Appearance
Edit
Krystal has long blonde hair and vibrant blue eyes and wears aqua eye shadow, a sparkly purple sleeveless shirt, a purple short skirt, a pink bracelet on her left wrist, pink earrings and red boots.
Catchphrases
Edit
"Hey, Perry/Perrykins! Whatcha doin'?"
"Hi I'm Krystal!" (as a teenager)
"According to my research,"
Krystal's first catchphrase is borrowed from Isabella Flynn from Phineas and Ferb. Her teen catchphrase is borrowed from Daisy Mario from the Mario series. Her research catchphrase is borrowed from Dorothy from The Magic School Bus.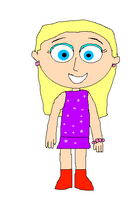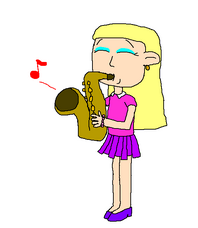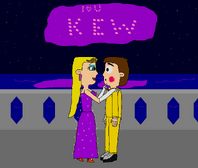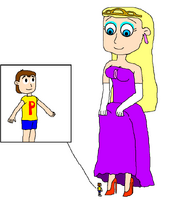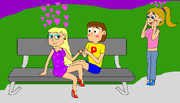 Community content is available under
CC-BY-SA
unless otherwise noted.