Project Miranda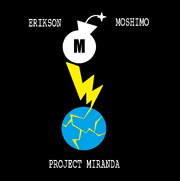 Project Miranda is the last-ditch attempt by Eddy Erikson and Professor Akira Moshimo to save the world in Robotboy and the Question of Triton. A fully self-sustaining and correcting AI, Miranda is a silent computerized entity that is able to quickly send thought data to and from multiple robots, allowing them to predict and expect what the other robots around them are going to do. Miranda is a full entity inside Styx Erikson, hence the reason why Styx is silent. Miranda is named after the moon of Uranus.
Robotboy and the Question of Triton
An attack on the United States is planned by Bjorn Bjornson in cooperation with the International Central Affairs with an end goal of killing the owners of the robots and claiming them for reprogramming to take over total control of the world. After much deliberation, Tommy Turnbull contacts Lola Mbola and Dr. Kamikazi to help them in their attempt to save the world. Professor Moshimo and Eddy join forces to make a new program capable of being run up at the same time on multiple robots, naming their creation Miranda. They installed Miranda into Robotboy, Protoboy, Robotgirl, Triton and Nix, but Eddy refused to power up Styx. After Tommy forced an explanation from Eddy, the story of the death of his father was revealed, and the reason why Styx was never booted up was because Eddy was continuing to abide by his deceased father's wishes. Tommy is able to convince Eddy to try a software dump and reprogramming of Styx's subsystem with only Miranda, and the process is a success. Styx takes over control of the mission to save the world, and together they eventually destroy the chemical and nuclear weapons that the ICA had planned to use on the US.
Community content is available under
CC-BY-SA
unless otherwise noted.